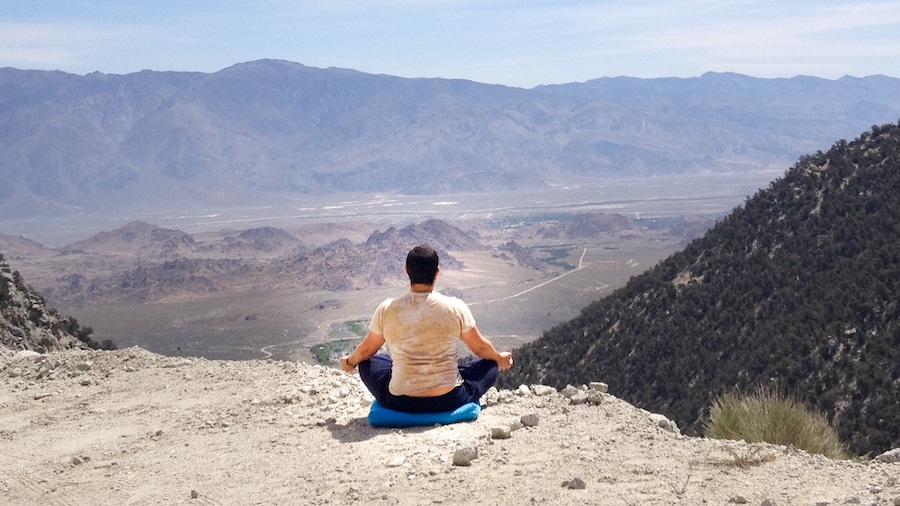 You need to meditate. Now.
What's healthier than a pound of kale and more blissful than the best sex you've ever had?
Meditation.
I'm sitting here in Ecstasy after a Beautiful pranayama Meditation and I feel a need to share this with you.
I've traveled all around the world. I've tried all manner of consciousness altering substance, every kind of adventure, every kind of sensory indulgence. I've had all the pleasures that this world has to offer. And none of them come close to the intense ecstasy, enstasy, bliss, joy, love, peace, satisfaction, contentment, and mind blowing transcendence of meditation. It gives you ALL the feels.
And beyond that, it gives you lifelong unshakable happiness, that pervades your entire life no matter what is going on in your life situation. Even in times of tragedy, grief, loss… Even in moments of panic, anxiety, depression, stress, overwhelm… it gives you a higher perspective to see everything that's going on, from the big picture.
But it's not some kind of numb detachment. You feel everything. Deeply. You feel your life happening in all of its emotional depth and glory, perhaps even more intensely than you did before. The highs are high, the lows are low, you still feel all of the so-called negative emotions, but all the while, you maintain this balanced center, like a surfer riding massive waves. But without meditation, the waves take you under, tossing you around like a ragdoll under the sea, overwhelmed by emotions. When you learn to meditate, you ride atop the waves with an inner smile and a keen sense of being completely in the moment, riding the waves masterfully, enjoying them… even when they crash.
And the craziest thing is that meditation goes beyond just emotions and happiness and relaxation… the things that pop culture tends to associate with meditation. When your mind is clear and focused and sharp, you're better at everything in life. You're better at making money. You're better at dating & relationships. You're better at making art, music, sports, everything that you do in life… You're just better at it.
Tim Ferriss found that 80% of the worlds most successful people have a meditation practice, across all fields and industries. Scientists, athletes, billionaires, artists… 80% of the worlds most successful people BECAME so successful because they had meditation practices. It's like the secret to life, hidden in plain site.
And while everyone loves being happy and making money, personally I think that the biggest benefits of meditation come from the way it warms and opens your heart and deepens your connections with the people around you, and even with yourself. It makes you more loving, kind, compassionate, empathetic… But more importantly it gives you the deep inclination and habit of making people happy. Making others happy, and making yourself happy.
The longest-running study in the history of humanity is the Harvard study of adult development. It's been running since 1938, tracking thousands of people across their lifetimes. And the single conclusion that came from the study was that the warmth of your relationships determined your happiness, and even determined how long you will live. The single most important thing in life is being kind to yourself and others.
So… Meditation gives you unshakable lifelong happiness, success in money, relationships, and everything else that you do, and beautiful warm loving relationships that enrich your life in the deepest and most human of possible ways.
For all of these reasons and more, I have dedicated my life to teaching meditation and spreading it around the world as much as possible. I've taught Meditation to over 100,000 people, in universities, hospitals, and online. I founded Meditation Magazine, which is now distributed in thousands of stores across 20+ countries on five continents. I've traveled around the world interview in gurus and publishing their words for the world to hear.
I've just created this website to host all of my online meditation courses. Whether you're a beginner or an expert, you can learn some new meditation techniques from these courses. I hope that they are helpful to you, and change your life in the way that Meditation has changed mine.
Please check out some of my courses below, and if you like them please feel free to sign up.
I did not get into meditation to make money… I used to be in real estate, and that was a much more lucrative business. I quit because it was not fulfilling to me. I didn't feel like I was really helping anyone other than myself.
If for any reason you do not enjoy my courses or you do not feel that they are helpful to you, just send me a Facebook message, and I will refund every penny that you spent on my courses.
I got into meditation because it helped me, and because I want to help other people In the same way. So I don't want you to worry about the money. The money is nothing compared to the benefit that you will get out of these courses — literally lifelong happiness, increased financial and relationship success, a chance to truly, deeply LIVE your LIFE… But I know that you can't KNOW that before you actually try these meditations. That's why I'm offering this completely risk-free 60-day refund policy. No questions asked. That's a full two months that you can take these courses and then request a refund if you feel like it. Because while there may be some people who try to cheat the system and take the courses and decide not to pay anyway, that's fine. I think that will be a small percentage of the people, while the majority are good people who realize that meditation teachers deserve to make money for their work and feed their families too 😂 And out of respect for that normal, kind-hearted majority, I want to make sure that EVERYONE can try these courses with no risk.
If you're new to meditation, I recommend starting out with my Meditation For Beginners course.
If you are already an experienced meditator, or you want to deepen your practice, learn new techniques, or even start TEACHING meditation to others, take my Meditation Masterclass (accredited by The Meditation Organization so you can get meditation teacher certification).
If you have ADHD, take the course that I specifically crafted for people with ADHD. I'll also be releasing some courses in the future that focus on anxiety, depression, and other specific situations.
I hope you enjoy!
Have a beautiful day ☀️